Internet
5 Ways Students or Unemployed Youngsters can Earn Online with Blogging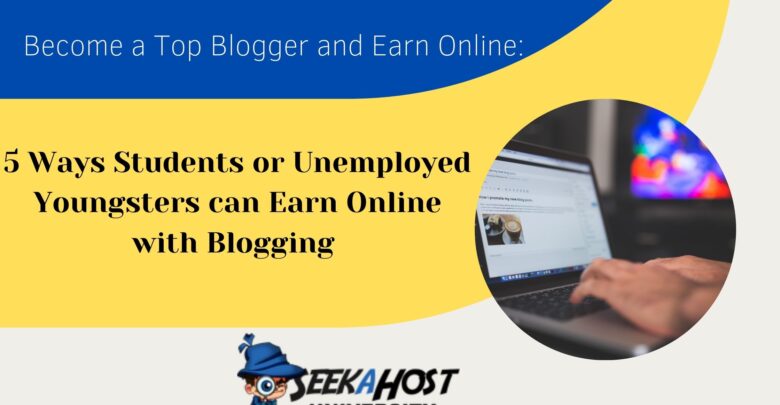 Whether you're a student or a young person currently on furlough or unemployed, you may be spending a lot of time reading and writing. So, why not turn this into an income generating opportunity?
In today's age so many possibilities are available in the digital world with online libraries, books and blogs being easily accessible from anywhere with a digital device.
There are various ways for students and school leavers to make money online while working from home if they are into blogging and content writing.
By utilizing one of the most popular blogging platforms Word Press anyone can easily start a blog that helps to build a thriving online presence and earn an income online. To learn how to start a blog with Word Press and grow it, check out the Ultimate Blogging Course at the SeekaHost University for beginners or our YouTube Channel for more information:
To start with this could be a side hustle with the potential to turn into an online business.
Bloggers make money by utilizing their blogs in multiple ways. Here are some that will deliver an income once you have built your blog to get at least 1K visitors per month:
Affiliate Marketing For Successful Bloggers
Affiliate marketing is an option that most bloggers have once their website reaches a certain amount of daily traffic as to get a commission this is required. However, it's a great opportunity without having to invest anything. Most e-commerce websites have an affiliate program, like Amazon, Topshop, Flipkart, etc. but depending on the blog niche, there are many other options like web hosting companies.
As a blogger you can promote a product or service via your blog with an affiliate link and if it is purchased by someone through this link, you are paid a commission, which can range from 10% to 40% per sale.
Bloggers can also sign up to Affiliate Window, where they can promote thousands of brands and services.
You can learn more about affiliate marketing options for bloggers in the "Walletproof Guide to earning a living on the internet" written by Manuela Willbold and Fernando Raymond from ClickDo Ltd.
Sponsored Social Media Posts For Additional Monetization
Establishing a good online presence on social media as a blogger can bring in additional money-making opportunities. Bloggers can earn through sponsored posts on social media such as Facebook or Instagram. They can advertise a product or service they use and charge attractive fees once they have accumulated a significant number of followers in their social media profile. There are various ways to build a strong following on social media channels and you can read more tips and tricks from online marketing experts on the top UK SEO Blog.
Writing and Selling eBooks On Popular Platforms
If you're very creative, you can make money by writing about a topic you are passionate about whether it's fiction or factual. With Kindle Publishing and many other free online publishing tools it has never been easier to get an e-book live and sell it also via your blog. This is perfect for generating a passive online income stream. Having blogged about relevant topics you can easily utilize your articles forming a book plus some additional bonus materials that are exclusively available in your eBook. You can find more guides on how to publish and advertise eBooks on the SeekaHost Blog.
Creating Online Courses on High-Profile eLearning Platforms
As a blogger, you can easily record your knowledge or skills and turn the videos into online tutorials or a whole online course. Many use YouTube to earn an additional income with so-called "how to tutorials" and the main income derives from adverts via YouTube, if you can accumulate over 1K subscribers. By creating and selling your own course you have more ownership of your content and can even incorporate it on your own blog. Popular platforms like Learn Dash, Teachable, Udemy will pay a percentage of the revenue your course generates. This obviously also helps to establish your name more as a blogger or influencer and at SeekaHost University bloggers are welcome to contribute their digital marketing expertise through guest posting and adding their own online courses to build their brand.
Offering Online Services via Your Blog
Depending on your skills, you can offer various services like content writing, blog creation, SEO Services and many more. Online tutoring for English or other languages is also on the rise and can pay handsomely. You can find out more about working and earning online in education via the informative UK Education Blog. If you are currently unemployed then such work experience can make you more attractive to future employers and spruce up your CV. You can advertise your services on you blog bycreating a page and sharing your experience and expertise through an online portfolio. You should also write blog posts or guest posts for popular news platforms about your work to spread expose your brand and you can create online profiles on online job platforms like Fiverr or Upwork too to reach a wider clientele.
Get Online And Start Earning via the Internet
Young people should consider starting a blog or online presence as it can be used to create various online income opportunities that will collectively bring in regular streams of income with immense growth potential in the future, if they work hard on their blogs to grow them. It could eventually lead to them becoming digital entrepreneurs, building their own eBusiness careers.
Author bio:

Manuela Willbold
Blogger and Educator by Passion | Contributor to many Business & News Blogs in the United Kingdom | Fascinated to Write Blogs in News & Education Manuela has completed a journalism summer course at the London School of Journalism and manages various blogs as an editor in chief as an Online Media Strategist at ClickDo.