Tech
How To Print Professional Quality Stickers At Home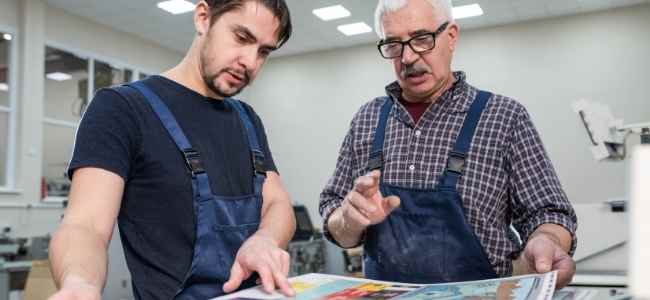 We're coming to the end of our third lockdown in the UK – are you bored of endless walks and looking for something else todo? Or maybe you've decided to start a business selling products on Etsy.
This article aims to help you make beautiful stickers at home for minimal cost.
Stickers are amazing for so many uses. For example, we love organising our larder with them, branding products we've made at home, or simply keeping the children's toys neat.
We're going to show you how to get UK made custom stickers for a low-cost. It requires no prior skills and very little money. Let's get started!
1 – Designing
The 1st task is to create artwork.
There are a few free to use tools to help you create a design. Some are better than others. The best we've used for people with varying levels of experience is Canva. They have lots of pre-made templates to use and help get you started. If you have a creative flair, we're sure you'll love having a play.
Check out this sticker we made on Canva – it only took 15 minutes!
If you really like it, you can download it and use it as a template for your own stickers.
2 – Printing
Once you have your artwork, you need to print it. If you already have a desktop printer at home, this is easy. If not, you have to buy one. Here are some options we think work best:
Entry-level – Epson XP-7100 – £200
Best quality – Canon PIXMA PRO-100S – £450
Now to find the best material to print. You have some choices; plastic or paper.
Paper is best for short-term use, and it's recyclable. Plastic vinyl durable and lasts longer.
Amazon is the best source of these materials; just search for sticker paper.
3 – Cutting
You have 2 options for cutting.
Keep it simple and use basic shapes, like squares or circles. This is also the simplest as you can buy pre-cut labels and put these in your printer. Just search 'pre-cut label paper' on Amazon.
To get more elaborate shapes, such as custom-shaped, clear stickers, you will have to buy a cutter.
A Cricut machine is ideal. It's simple to use, and there's a large community of people on YouTube showing you how to use them.
And that's it – why not start immediately! It's super easy. Let your imagination go wild and have some fun. If you're getting stuck, Pinterest is a fantastic source of inspiration.
If you don't have a printer or cutter and want to play at the designing part, why not outsource the printing. Sticker it is a UK based supplier of quality custom stickers. They've printed over 10 million stickers, so you're in safe hands. We hope you've enjoyed this and can now create professional stickers at home. If you've got any questions or want to share your results, please comment