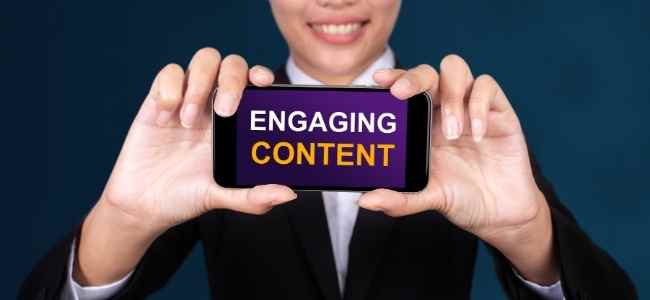 Did you know that the average time spent on a website by a user is only about 30 seconds? That specific stat is called a bounce rate, and if you own a website, and your bounce rate is lower than 30 seconds, you need to make some changes.
With that being said, creating webpage content that is engaging and keeps users around for longer periods of time is hard work. You have to know what to do, and what not to do, to get a bounce rate that you're happy with.
So how can you make the content on your website more exciting and entertaining? And what are some tips and tricks that you can use to engage better with your users?
In this article, we'll tell you everything that you need to know about creating awesome and engaging content for your website. We'll tell you how to format your content, how to decide on topic ideas, and even what tools you can use to help you find success.
Be a Different Voice in Your Niche
No matter what kind of content you create, odds are there are already bigger, more established websites thriving within your niche. Trying to compete with them by doing what they do is never a good idea, to say the least.
What you can do, however, is be a completely different voice for users to listen to within your niche.
Of course, this is often easier said than done. It requires a great deal of creativity on your part, as well as an idea of how to do stuff like keyword planning for your article. But if you can pull it off, you'll make it much easier to grow your site fast. 
Provide Credible and Reliable Information
While it's always a good idea to be different and provide users something that other people aren't, you still need to be both credible and reliable. If people can't trust you, or your information, they won't come back to your website again, which of course isn't what you want.
So, if you aren't doing so already, be sure to spend tons of time researching before you create any content. That way you can get all the facts right, as well as be able to answer any questions users may have about whatever it is you wrote.
Be Engaging and Entertaining
Do you create content that is informative? Are you writing about topics that are educational? If so, you still need to find a way to relay that information to your audience in a fun and entertaining way.
After all, you want people to be enthralled with whatever it is you're writing about. And if you can present facts or information in an entertaining way, you can do just that.
For some subjects and topics, doing this can be quite difficult. But if you've got a sense of humor, or are good at making infographics, you can still get the results that you're looking for.
Focus Heavily on Formatting
Regardless of what kind of content you're creating, or what your subject matter is about, formatting is essential to making your work more engaging.
Simply put, a giant wall of text, without paragraphs and headings, is going to overwhelm users. Instead of sticking around, they'll be looking for content elsewhere, which is bad for the overall success of your website.
The good news? You can learn a lot about formatting by simply paying attention to this article. See how we've used short paragraphs and headers to make this information easier to digest?
Mastering formatting is that simple. Pretty cool, right?
Let Visuals Help You Out
Another creative way to break up your articles, all while making them more engaging, is to use visual aids. Things like pictures and videos work well, especially when used sparingly.
And if you have an information-heavy topic to discuss, making your own infographics using a site like Canva can also be helpful, too.
With this in mind, make sure that you don't go overboard with how many visual aids that you use. Limit yourself to one or two media files per article to ensure that your website will load fast on all sorts of devices.
Know Your Analytics Well
If you've been creating content for a while now, you already know that some articles and posts are going to do better than others. It may sound obvious, but giving users more content that is similar to the content that you've had success with already is a great way to create a website that is more engaging.
That's why we recommend that you use tools like Google Analytics, and even things like heatmaps by Decibel, to keep a close eye on what your users are doing on your site. That way you can know what kind of content they like, and thus, can give them more content like it in the future.
Still Not Sure How to Create Good Webpage Content?
As you can see, a lot goes into creating good webpage content that users will find engaging. Everything from what you're talking about, to how to format your posts, is important.
But if you keep these ideas in mind, and listen to what your audience is saying via your analytics, you can find success with your website fast.
Looking for more tips and tricks that you can use to take your website to the next level? Check back with our blog often for tons of helpful information on how to grow and manage a website the right way.