Tech
Split PDF Pages Online And Make A New File Using PDF Bear's Provided Method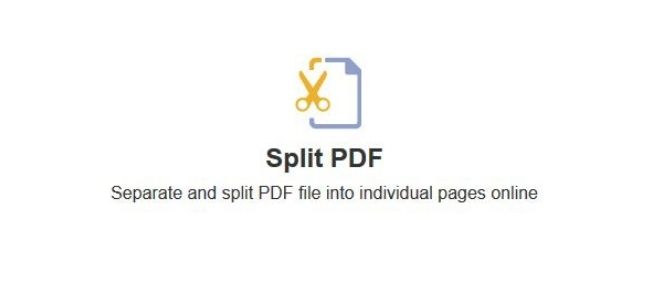 PDF Bear consists of various useful advanced features that work for all sorts of documents. From PDF, JPEG, Word, to Microsoft PowerPoint, PDF Bear protects all your files with its security features. No hesitations why the site becomes famous worldwide. Its simple layout and well-provided instructions for each process are two of the hundreds of reasons why professionals prefer using it than other online-based tools out there.
When you visit the site, expect a wonderful experience. In just a few methods, you can get your desired result for your files. All provided steps are easy to follow, and the whole process will only consume a few seconds. If you have a PDF file that you wish to split for other purposes, PDF Bear helps you fulfill the task. All necessary procedures are provided below. Rest assured that it will be quick, easy, and convenient.
Step 1. Choose A File
To split PDF online, select the file that needs to be splitted and upload it to the website. Click "Select A File" to do the process, but you can also drag the files directly to the website. Either of the two ways, PDF Bear, will assure that your uploaded files are highly guarded against any prying eyes growing online. PDF Bear knows how much value the confidentiality of your document and your privacy.
Step 2. Select The Pages
When the document is ready, select the pages you need to be splitted by clicking on the page itself. But before the pages appear, PDF Bear allows you to choose your PDFs' appropriate option. You may choose between the standard process or the site's pro edition offer. Either of the two, rest assured that you will acquire a top-quality result. Another best thing about PDF Bear is its ability to add more PDF files during the procedure.
Step 3. Click "Refine Pages"
After selecting the particular PDF pages that need to be splitted, click "Refine Pages" to start the splitting process, and export the pages to another PDF document. This offers you a better view of your documents, and use them for whatever purposes you may have.
A platform is never an issue with PDF Bear as it supports various platforms, including Windows, Linux, Mac, and even your Android devices. The splitting process will be performed on the website's cloud. Thus, no storage space will be utilized. Cloud-based supported technology also allows you to visit the site anywhere and anytime you wish.
Step 4. Click "Download"
After the whole splitting procedure, you can download your updated documents for free, and expect excellent results. You can save them on your Dropbox and Google Drive. Another great option is saving them on your internal storage. Either of them, rest assured that the quality of your documents will not be affected. The high-quality will remain.
As part of the PDF Bear's Privacy Policy protection, all of your uploaded files will be permanently removed from its server after an hour for your own security. This security feature makes the website trusted for dealing with all sorts of document-related concerns.
Can I also compress my PDFs using the website instead of splitting them?
Since PDF Bear is a versatile online-based tool, yes, you can also compress your PDFs using a few methods instead of splitting the pages. You can reduce your PDF's size using its compress PDF tool without sacrificing the quality of the document. The website assures its users that they can enjoy their updated files' high-quality resolution at the end of the entire process.
If you want to use its compress PDF tool, you can follow the indicated steps below. Similar to its cloud-based features, this tool also assures users of a secure and protected process. Almost 70% of the document's size will be reduced.
Step 1. Press the "Choose Files" button to start uploading your PDFs to the website's server. You will be automatically directed to your file manager. Choose the PDFs you need to be compressed. Your uploaded document will be removed after an hour. Thus, there are no reasons to be worried about your PDF's confidential information.
Step 2. Choose from the selections provided by the tool. Either you opt for its basic compression or strong compression from its pro edition, your files will get compressed.
Step 3. Let the tool analyze your inputs and choices. After the analysis, your files will be ready to compress. It will just take a moment. Your time will not be wasted.
Step 4. Press "Download" to save your compressed PDF files. Save them on your Dropbox or Google Drive. They are 100% ready to be utilized for various purposes.
Takeaway
Known for its basic and easy-to-follow layout, PDF Bear also prides itself on giving users the most secure process for splitting and compressing PDF files. In this digital era where paperless documents become the newest standard, PDF Bear is one of the must-have website tools to work on your files. It can produce a better version of the paper. There are no hassle procedures. All of them are convenient and well-provided. You will never encounter even a single issue.