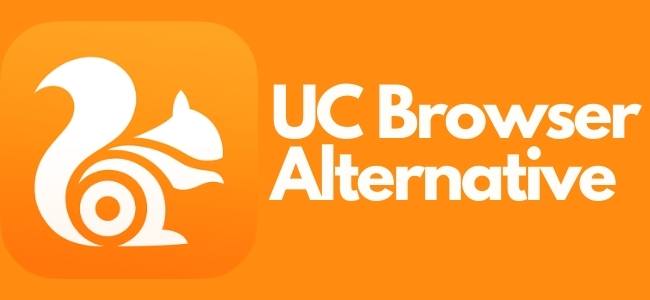 The Indian government has banned 59 Chinese apps including Tik Tok, UC Browser & Shein. These apps were banned due to security and privacy concerns. The decision of banning these Chinese apps was made after the tension between the Indian and Chinese governments due to a clash at their borders. A lot of people are happy as these apps are banned while some are stressed. UC browser was one of the most used browsers in India with over 500 million installs on Google Play Store because of fast its page-loading speeds and lightweight nature. As the government has banned the US browser, people are searching for its alternatives. Here in this blog, we have brought top 10 alternatives to UC browser. So, without further ado, let's get started!
1. Google Chrome
People who use smartphones and computers are well versed with Google Chrome. It is a fast, user-friendly and secure web browser used by millions. This browser ensures high-quality safety and is modified frequently to fix protection flaws and unsafe websites. Chrome has personalized news stories, downloads, quick links for the most used sites, Google Search, and Google Translate. Chrome is optimized for pace and performance, whether on computer or smartphone. Chrome is changing continuously to maximize the use of resources and responsiveness. Chrome may build and protect unique passwords for every website. You will also be able to synchronize all your settings, bookmarks, your passwords and other details with the help of your Gmail account while you use Google Chrome as a default browser on your desktop.
2. Mozilla Firefox
Mozilla Firefox is another best alternative to the UC Browser with intelligent browsing features that enable you to keep your privacy, passwords and bookmarks. The browser has amazing features that make it far simpler for users to use the software. The browser is easy to use, clean and fast. One of the strongest features of this browser is to access and turn between tabs quite quickly. A variety of versions are now available for Firefox. There is Firefox, Firefox Lite, Firefox Beta and Firefox Focus. Firefox Focus is the latest and lightweight browser which focuses on your privacy. This browser protects your privacy and is completely secure.
3. Opera Mini
In terms of quick web-browsing on slow internet connections and less data consumption, Opera Mini is one of the best web browsers. With just one swipe, you are able to stream Opera Mini web images. Similar to Chrome, Edge and other browsers, Opera is lightweight and includes multiple features. It's safe and easy to use. Obviously, Opera Mini is full of functionality and features, which you'd expect from a good web browser. The Opera Mini is the perfect browser for those who use 2G networks. Certain features of the app include smart updates, tab list, ad blocking, night mode, etc. In certain conditions, the user cannot load some heavy websites that have elements like Captcha or JavaScript. Other than that, it's amazing and works well.
4. Edge
Edge by Microsoft is considered as one of the best internet browsers with strong features. It comes pre-installed with all Windows PC and now available on Google Play store to download in your smartphones. Through features including Tracking Protection, AdBlock Plus, InPrivate mode, Microsoft Edge provides you with online privacy & security. The browsing experience is more personalized, as you can sync your favourites, passwords and other stored data in Edge. You do not have your browsing data on your device after closing your private tabs in Edge. Get rewards online and in a local store when surfing Bing and seeking shopping offers. Newly redesigned browsing helps you get to your favourites, read list, and fewer taps.
5. Maxthon
Maxthon is not only a browser for opening quick web links but has many more valuable resources included in it. A password manager, note-taking tool, e-mail manager, web clipper and night mode are among the tools or features that are useful. While Maxthon is compressing web pages in order to save data consumption, the Smart Image Display option allows you to save more data. Maxthon loads low-quality images when switched on, or only when needed. Maxthon's simple and flexible user interface is liked by everyone. Maxthon is a fairly decent choice if you're a heavy web browser user.
6. Bharat Browser
All the web browsers above are utilized by millions of people and designed by large companies, such as Google and Microsoft. All the browsers in the list are designed by non-Indian corporations. Replace UC browser and use Indian web browser named Bharat Browser, which has been created by Bengaluru based start-up BlueSky Inventions. The browser functions such as notifications in real-time in nine Indian languages. It has a dedicated section for video game and more. The browser is built to operate even with cheap Android devices and has an 8 MB app size.
7. Kiwi
Kiwi is a new web browser, though much stronger and better than the UC browser. This is designed and developed on the same platform as Brave and Firefox Focus. And it has certain different features you would certainly enjoy. The web browser looks like Chrome and has UI quite close to it. Kiwi can first of all block intrusive cookies and trackers from third parties. It has Cryptoprotection which blocks the scripts from using your device to mine crypto-currency. In comparison, Kiwi has a good popup blocker and a number of adblocking tools. Kiwi is one of the strongest web browsers and is a good alternative to UC Browser due to its extensive support.
8. DuckDuckGo
Duck Duck Go is a browser which focuses on privacy and allows you to take control of your personal information that you share while browsing the web. This ensures that cached ad trackers and improved security protection are avoided. DuckDuckGo is known for its reliable search engine, but even for mobile phones, it provides a dedicated web browser. It will block all secret trackers from third parties and lets you know the key ad network behind the tracking system. DuckDuckGo also allows pages to use the HTTPS Everywhere extension with authenticated links such that the data is still secure from prying eyes. Generally, this is one of the best choices for users prioritizing security and privacy while using an internet browser.
So, these are the best picks for UP browser alternatives. Download the browsers in your devices and enjoy safe, secure and private browsing experience. For Apple device users, safari is the best browser to be used in their devices. It's safe, fast and user-friendly.