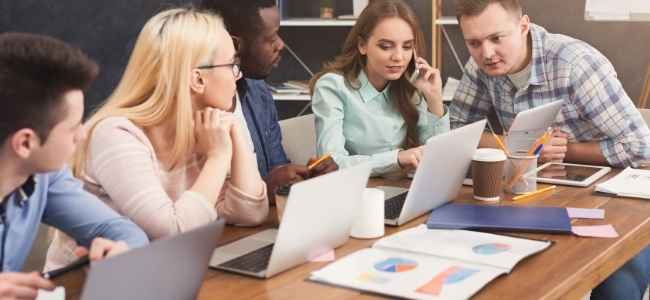 Finding a solid tech partner can be quite a challenge. While it seems an easy task, there's no room for mistakes when it comes to such a major business decision. Enterprise solutions are essential tools for any business and a major investment that requires a hefty budget. As such, you want to hire a development team that can deliver a product that fully meets your requirements. It should be a reputable company that will accomplish the project within the agreed budget and schedule.
Unfortunately, not everyone has adequate knowledge and experience when it comes to tech matters. Evaluating and choosing a software development team requires some background in IT. With streams of proposals coming your way, making hasty decisions can lead to mistakes.
Software Development Company vs. Independent Contractor
The foremost dilemma of businesses is choosing between a full-fledged software company and freelance developers.
Freelancers or independent contractors offer the lowest costs. While this option is ideal for some businesses, in most cases, the services of an independent contractor will cost just as much as a software development company. But more importantly, hiring freelancers comes with risks so consider this option cautiously.
On the other hand, a software development company offers well-established processes, manned by experienced professionals, a proven track record, and supervised by a project manager. Working with a software development team might seem costlier but it can ensure quality software and top-notch services.
With countless options available to you, how should you choose the right software development team? Below are six vital things to look at.
Years of experience
Software development skills are mastered through constant practice and application. As such, you should choose a development team with proven track record and years of experience in the field. Their experience equips the team with necessary professional capacity to carry out various software development projects. Experienced software developers also have enough knowledge with various technologies, thus allowing them to meet your unique needs.
Knowledge of latest technologies
A dependable software development company must be abreast with the latest market trends and technologies. Check the company portfolio to find out what software systems they have worked on previously. This will give you an idea of whether they have worked on a similar project like yours in the past. Ask if they are certified with major IT manufacturers, such as Microsoft.
Reputation
Review the software company's official website to find out testimonials and reviews from previous clients. Ask for references and cross-check the information on their website to get an idea about the tech developer's work ethic and the quality of output. Gathering reviews about the development team gives you an unbiased opinion about the company. This should help you pick the right provider. You want to work with a company that actually does the projects and doesn't simply outsource work to third-party providers.
Communication
According to developers at Entrance Consulting, constant communication is vital to ensure that the client's software requirements and end-users preferences are achieved. During the application development process, you'll likely have questions and requests, and open communication is vital.
For sure, you don't want to pick a team of geeks who lack efficient communication skills. It's not enough for a development team to have the technical skills to build your software, but also communication skills. Ask about the communication modes you can reach the development company, such as through email, live support, or chatbox. Open communication channels ensure that the software gets developed to meet the business goals.
Cost of services
The development cost is an important consideration when looking for a software development team. Look for several companies and ask for quotes before hiring the one that offers the most reasonable rates. Make sure that the company does not have any hidden costs by carefully reading the fine prints. Take note, however, that the rates of services may vary depending on their level of expertise, the scope and type of project, and the existing rates in the area. A quick browse online should give you options.
Number and composition of the development team
These are useful indicators that can give you an idea about the stability and processes of the company. A software development team that employs a hundred designers and coders tends to be more experienced. Their combined technical experience and qualifications enable the team to handle a much wider range of projects. Having a team member dedicated at a certain stage of the application development ensures a quality final product. Likewise, companies that are composed of experts in various stages of software development are better able to handle major projects.
Conclusion
Choosing the right software development company is no simple feat. Not only are you putting in time and money in such a major investment, but you are also putting at risk the efficiency and success of your company. Hence, you must spend time to evaluate all potential developers. Be sure to pick a software development team that has all of the six qualities listed above.