Gaming
Heroes Of The Storm Tier List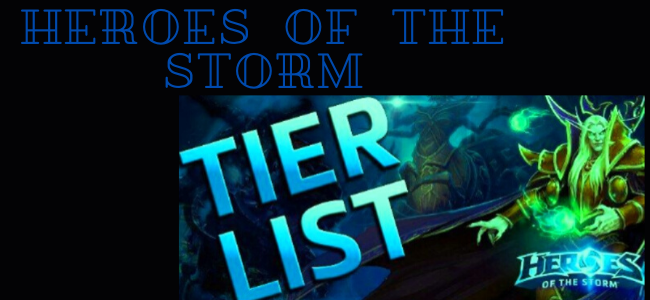 One of the biggest industries in the world is the gaming industry. It is a multi-billion dollar industry. There are millions of games launched my hundreds of companies from all around the world, but only limited ones get a huge fan base and success. These days, online battle arena video games are growing rapidly. People love to play these games.
One of the best multiplayer online battle arena video games loved by the gamers is "Heroes of the Storm." In this game a player can choose his/her hero and prepare to fight in Heroes of the Storm. It is one of the most popular games developed and published by Blizzard Entertainment. It was first released by the company on June 2, 2015, for Microsoft Windows and MacOS. Recently, the game is on the list of every game lover, as its third season is coming in the market. The fans of this ultimate can't wait for the release of the third season of the game.
There are a lot of players who want to know the name of heroes categorized according to their strength and tier list running from the lowest tier to the highest tier. Here in this blog, we've brought defined heroes of the storm tier list only for you.
Tier List with Descriptions as per September 24, 2019
Tier S
There are three heroes in the first tier named S. These heroes are rarely seen solely because they got banned often in game. Heroes in this tier are highly popular, strong and reliable. The name of heroes from the team may change in future. There are five heroes in the list and these are –
Anduin
Maiev
Deathwing
Tyrande
Garrosh
Tier A
In Tier A in Heroes of the Storm, there is an all-powerful group of heroes, with a large range of weapons, positions and better strength. These characters aren't as good as the heroes of the Tier S, but they are always good choice to play. There are nineteen heroes in Tier A and these are –
Anub'arak
Leoric
Arthas
Malfurion
Zeratul
Artanis
Deckard Cain
Genji
Hanzo
Thrall
Tychus
Blaze
Diablo
Imperious
Jaina
Orphea
Raynor
E.T.C.
Fenix
Tier B
The B Tier classes of heroes are full of fan favourites, many of which prove very effective if used properly in the game. These heroes are capable, strong, reliable and trustworthy. While they are not as good as heroes of Level A and S, but they are still preferred by many players. Within this group of characters there are certain amazing qualities. Li-Ming is really a common hero in recent times. There are thirty one heroes in this tier and these are –
Abathur
Sonya
Stitches
Johanna
Sgt. Hammer
Yrel
Zagara
Stukov
Chrommie
Dehaka
Greymane
Gul' dan
Sylvanas
Alarak
Junkrat
Kharazim
Tracer
Tyrael
Li Li
Li-Ming
Mal'Ganis
Mathael
Mephisto
Muradin
Qhira
Rehgar
Ana
Brightwing
Chen
Zarya
Zul'jin
Tier C
The heroes in the C tier are commonly known to be weaker. However, there are a few gems that can help you win when played correctly. Tier C heroes are selected or banned less frequently. The characters of this tier need strong abilities and skills to be used properly. There are twenty four heroes in this tier and these are –
Alexstrasza
Auriel
Azmodan
Valla
Whitemane
Illidan
Probius
Ragnaros
Rexxar
Tassadar
Uther
Valeera
Falstad
Cassia
D.Va
Kael'thas
Kel'Thuzad
Lucio
Lunara
Medivh
Nazeebo
Kerrigan
Lt. Morales
Xul
Tier D
The Tier D heroes is are considered to be the least popular and there are currently only nine characters. Although each of these heroes has certain benefits, they are generally thought to take a lot of work. They are often less effective than other characters.
Cho
Gall
Gazlowe
Murky
Nova
Samuro
The Butcher
The Lost Vikings
Varian
Suggested:  192.168.1.1 Login Page, Username, Password And Wireless Settings Quick Guide