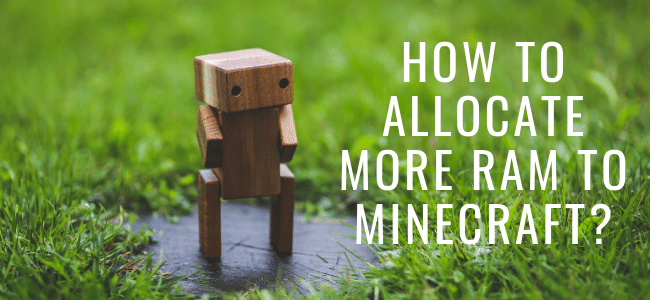 Video games are famous among people for years. There has been an evolution in the gaming industry. Previously, the 2D games used to have the most basic graphics and now there are 3D games that have advanced graphics. There have been a lot of advanced online games played by people all around the world and one of them is Minecraft. The game can be played on both smartphone and desktop. Despite having low graphics, this game uses up to 2GB of Ram when installed in your device. If you don't have enough ram in your device, then you might encounter with multiple issues including stuttering, crashes and lagging, which makes the game almost unplayable and causes irritation.
If you want the game to run efficiently in your device, then you need to have enough memory. 2 GB RAM is not enough to play Minecraft efficiently. You can play the lag-free game by allocating more memory to the game. If you don't know how to add more RAM to Minecraft, then don't worry are going to help you. There are multiple ways to add more RAM to Minecraft. Here in this blog, we are going to share these ways with the Minecraft players and you may also know about craigslist alerts
by clicking this hyper link.
How to add more ram to the Minecraft server?
Option 1 – Allocate More RAM in Minecraft Launcher
Step 1 – Check available RAM on your PC by opening windows start menu and choose settings.
Step 2 – In the Settings, you need to click System and locate to the "About" section. There is an option showing installed RAM under Device specifications.
Step 3 – Now, start Minecraft launcher in your system and select the launch options tab.
Step 4 – Choose the profile in which you'd like to make changes. You need to make sure that the JVM arguments are turned on.
Step 5 – In JVM arguments, you will see -Xmx1G. the Numerical digital, either 1 or 2 in this code needs to be edited to add the GB of RAM that you'd like to allocate to Minecraft.
Step 6 – If done, save the changes and your RAM is increased.
Option 2 – Allocate More RAM in a Minecraft Server
Step 1 – As usual, check the RAM on your desktop.
Step 2 – Now open Minecraft server directory by searching for "Minecraft_server" on your PC.
Step 3 – Once you find its location, create a new text document in the server directory.
Step 4 – "java -Xmx####M -Xms####M -exe Minecraft_Server.exe -o true PAUSE" – It is a code that you need to paste to the new text document.
Step 5 – Now, click File and select "Save As" and while saving it, you need to change the file extension from ".txt" to ".bat".
Step 6 – The file you create will be the new launcher for your Minecraft server.
You need to run the new file to start Minecraft and it will automatically allocate a specified amount of RAM to the game.
Final words!
Minecraft is an amazing game loved by all the gamers. Make these changes in your computer and then play the game efficiently. You'll get the smooth gaming experience after adding more RAM to the game. If you've been facing the lagging and crashing troubles while playing Minecraft, then follow the guidelines shared above to allocating more RAM to the game.