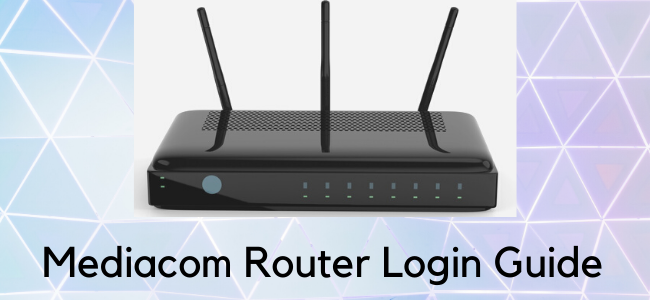 It is very easy to locate routers almost everywhere. A router is a critical tool you need to have to enjoy uninterrupted internet. Mediacom routers are commonly used among small companies and individuals. Mediacom offers trustworthy network infrastructure in more than 22 US nations. The manufacturers of Mediacom have other devices or gadgets, such as a modem, as well as the Telephone. Each of these, Mediacom Internet and Router will improve your surfing experience by using them together.
You may also need to learn the operation of the Mediacom router. It is really easy to operate these routers and does not need extensive training to learn how to use them properly. But when users will supply their credentials and IP address to the default router gateway tab, the biggest challenge arises. Several Mediacom users frequently consider it challenging to navigate this default login account. To help such users, I've brought a step-by-step Mediacom Router Login guide.
Accessing the login page of the router
You need to keep a couple of items ready in order to reach the default router login page. First thing you need to make sure is that your system properly connected to the Wi-Fi. Check the connections for the wire if they exist. Because the Mediacom router is operated by the Mediacom cable service, the Home Network Manager app allows all the associated activities simpler to handle.
Steps to Access Mediacom Default Router Login Details
1. Go to homewifi.mediacomcable.com. (You can copy the URL and access it)
2. Now, you'll land on the control panel of your router where you need to enter the Mediacom username and password.
3. In case you don't know the password, just click on "Forgot Your Passphrase" to resent the password. In certain cases, the login details are default, i.e., Username: admin and Password: admin
4. After entering the login details, you are all set to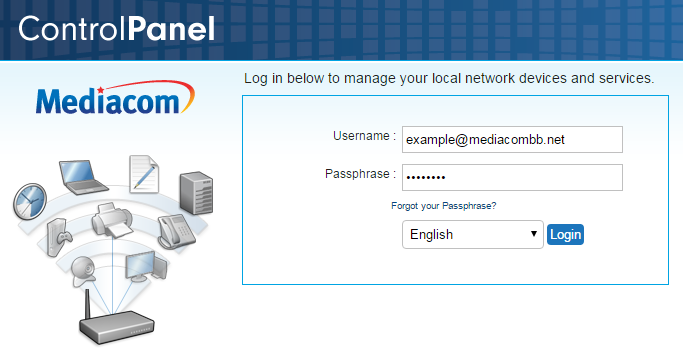 Change SSID
Change Default Username and Password
Change DHCP Settings
Setup Firewall
Configure the Router for the home network
Resetting the default login
When you reset your modem, you just not only forgot your password, but you will also resolve the speed issues that you were dealing with for a long time. Remember that this will restore all the previous settings. After you have passed this process, you will need to login and change your Mediacom router login identifiers.
1. There is a reset button at the back of your router, which you need to locate.
2. Take an object with the pointy end like of your pen or safety pin to push down that reset button. Now hold the button for 10 – 15 seconds.
3. Now your router will go into a reboot phase.
4. Now the lights will start flashing again and this is the hint that the reset is successful. It will only take 2 minutes to finish the process.
The IP address of modem is 192.168.100.1 or 192.168.0.1. You can visit the link and make the changes according to your needs.