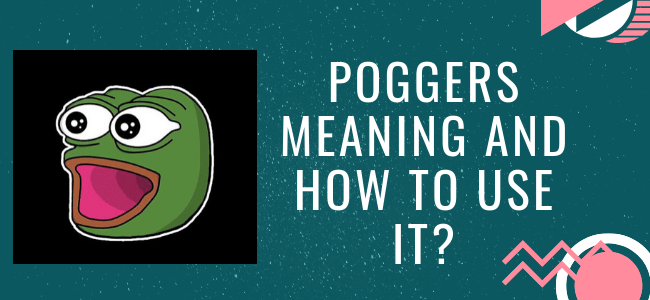 The recent world is all about social networking and gaming. The expansion of social networking sites and games has given rise to multiple things and one of them is twitching emote. One of the most widely used emoticons is Poggers. This was previously used during the games to express excitement. Poggers is an Internet product in its new Twitch-based form. That is to suggest that there is no formal description in the Oxford English Dictionary and no single pattern to usage. Ask a dozen people what it means or how to use it, and you appear to be getting a dozen answers, each of them with a nuance of its own. If you also want to know more about Poggers then stick to your seat and read this blog. Here we are going to tell you a lot of Poggers and its uses.
Poggers Meaning
Poggers is a Twitch Emote with an illustration of Pepe the Frog, which expresses the excitement or celebration in a way comparable with the PogChamp emote. Like MonkaS, Twitch's most common frog character emotions. From the racist cartoonist "Pepe the frog," who is closely connected to racist groups in pop culture, in particular to anti-Black propaganda. There are numerous variations and offshoots such as pepesmile, pog, pepehands etc.
If you don't know what is Twitch, then let us tell you that it is a website that allows people to stream live from their computers. In essence, someone streams their computer screen, while playing game and a lot of people watch it. In the beginning, it was for gaming, but its uses widened to music, writing and other general broadcasting. Still, it's mainly about gaming.
Poggers is the new and trendiest twitch emoticon that is used to reveal surprising feelings and emotions. Poggers not only refers to the shock, but it also refers to the excitement that you get when you face any shocking condition. It applies to the exalting anxiety that occurs when something amazing occurs. This is used to show the amazement while playing Fortnite and League of Legends. It is the most frequently used emoticon used to show the excitement that blows away the minds of players.
How to use Poggers correctly?
There is always a chatroom next to the streaming video and here are the emotions. Essentially, Emotes are actually emojis on steroids. Although emojis are limited, you can download as many emotions as you want in your chat file. They are tiny images which sometimes build or even stimulate conversation, a sense of personality or culture.
You can't use emoticons all the time. There is a right way or right time to use it. If we talk about Poggers, then you use it when you feel extremely excited or surprised. If you are playing a game and something unexpected happens to you that surprises you, Poggers is an emoticon that can be used to denote that feeling of surprise and excitement. Poggers can be used to portray something in the form of Pepe-The Frog memes. It can also be used to show the shocking face of Ryan Gutierrez. Nowadays, a small group of Twitch Broadcasting gamers understands if you say "Poggers" that they mean "that's awesome!"
Final words!
You wanted us to Define Poggers and we hope that we have defined it in a nice way. We've also used examples to make it easy for you to understand this term. I hope that you've understood what Poggers is. Now you might use the Poggers emoticon at the right place to portray your feelings of excitements.