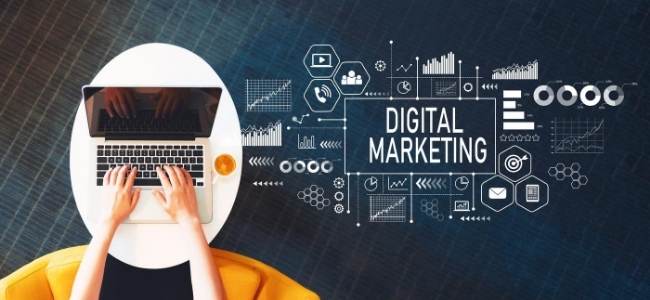 The establishment of brand apt B2B digital marketing strategies in this digital era has gained rapid adoption across organizations, irrespective of their industry. Increasing acceptance of smartphones, a significant amount of ad spends, rising per capita expenditure, cheap internet connectivity and increased online time of end-consumers are the dominant factors for this digitalization across the globe.
Where should I start?
Digital marketing for B2B is crucial for business and needs well-defined plans of action focused to meet the company's digital marketing goals. Specifically, these strategies range from social media campaigns to influencers' partnerships, content marketing strategies, and even retargeting advertisements to build customer persona.
More importantly, partnership with a full-service digital marketing agency with legacy and experience in the same holds the key to success. This supports the accomplishment of quantitative goals like improvement in conversion and leads generation rate over a stipulated time.
Through this blog, we have tried to discuss the most effective B2B digital marketing strategies, currently trending in 2020:

1. Responsive Web Design:
The most important aspect of digital marketing for B2B companies is a responsive website as 80% of potential buyers visit the company website to check the solutions offered. The landing pages, testimonials, social proofs, and the overall content must be short, crisp, and conversational.
The second important aspect is multi-gadget responsiveness. With 52.2% mobile traffic share, responsive website content is a must for increased website traffic. Digital marketing agencies are driving SEO expertise (both on-site and off-site), call-to-action options, RWD, accelerated mobile page techniques, and a minimum of 18-month website optimization for best results.
2. Video Marketing:
The most common sight of anyone and everyone holding a smartphone or a laptop (with cheap high-speed internet) opens up the gate of opportunities. Statistics show that ~51% of digital marketing professionals report video content as the best ROI while 70% of consumers agree that they shared a brand's video on social media. Video marketing, specifically through short videos with 360-degree video content, enable a better conversed and personalized brand awareness. It also delivers confidence and a better conversion rate to online purchasers post watching a product explanatory video as against whitepaper or emails.

Digital marketing agencies are now serving to optimize these brand videos for better response. Text overlays, video transcription, and closed captions are currently used along with the description, metadata, title, file names, and SEO keywords. For better visualization, video transcriptions are posted on blogs, social media sites, and articles with embedded links to the same. The practice is accentuated with email marketing as well, where video thumbnails are used in subject lines.
3. Social Media Marketing
Social media has currently been positioned as a strong strategic venue for companies for brand promotion and lead generation. The concept includes strategic advertisement placement, informative landing pages, and content creation according to the target audience, highest viewing time, and purchase decision metrics. This marketing concept calls for a more precise output due to word limit and space constraint. This also provides a wider arena for public relations and content distribution in digital marketing for B2B companies.

4. Email Marketing:
The strategy of email marketing has a proven record of the highest lead generation in B2B marketing and still holds. However, it purely depends on research and demographic targeting for a better reach and personalized feel. The recent trends have included the inclusion of social media share icons, referral reward systems, embedded video links, and lucrative offers to further engage the target audience. Additionally, subtle cross-product advertisements, website traffic, and engagements are done by integrating content marketing strategies with email marketing, to shorten sales cycles.
5. Programmatic Advertising:
Programmatic advertising refers to the usage of artificial intelligence (automation) for purchasing audience-specific advertisements. According to eMarketer data, in the US alone, 82.6% digital display ads will be programmatic by the end of 2020.
Unlike the search-driven manual advertising campaigns, programmatic advertising uses hundreds of targeting signals to personalize ads. The USP lies in integrating these signals with an individual customer's lifestyle, behavior habits, and customer data platforms to curate a customized advertisement portfolio. As a result, we achieve cost-effective customer acquisition with a higher conversion rate.
6. Influencer Marketing:
In terms of the B2B business model, influencers from well-recognized industry personnel or business leaders are hired by companies. Sometimes they are also Instagram or Facebook personalities with massive niche followers who can help your company in spreading your business or product on social media. The perception of driving this marketing strategy is influential buying and preference for influencer's word of mouth over corporate advertising.
7. Chatbot:
The advent of artificial learning has massively changed the perspective of customer service. As of date, it is expected that chatbots will power ~85% of the customer service requirements by 2020. This digital marketing for B2 offered the best of its service and return on investment, in the present COVID pandemic when customer servicing faced a huge blow. Top benefits included 24*7 customer service, instant responses, and huge cost-effectiveness. By 2022, chatbots are likely to generate savings worth $8bn p.a. for business organizations. Secondly, it also catered to the conversational marketing requirements which need one-to-one, real-time connectivity.

Amura is a digital marketing agency offering end-to-end data-driven B2B digital marketing strategies. Our services focus on the entire consumer funnel and deliver a long-term sustainable brand value proposition with better ROI. We currently serve over 250+ clients with over 200 digital experts.