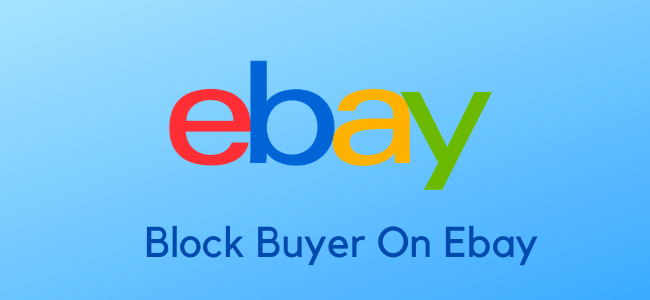 The eBay is a very famous online shopping platform used by millions of buyers and sellers. You can buy and sell anything on eBay. There are a lot of sellers on eBay that run their online retail business and earn good money. Becoming an online seller is not an easy task, but once you understand the demands of online buyers, no one can stop you to achieve a good place in online marketing. Online selling comes with multiple benefits including-
Serving customers globally
Achieving a loyal customer base
Lower fees for product listing
Higher benefits
Receive the affiliate commission
Auction listing
Great SEO benefits
But, every platform comes with some drawbacks and there is a drawback of using eBay. You'd have to deal with annoying buyers also. If you are an eBay seller, then you must have had an an unfortunate encounter with a buyer in the past. But the good news is that you won't have to contend with another bad offer. You can simply block eBay buyer from making bids, making offerings or buying your items. The eBay gives you an ability to block the user you don't want to do business with. But these are some sellers who don't know How to block eBay buyer. For them, we have brought a step-by-step guide to block an annoying eBay user.
How to block buyer on eBay?
If you don't want to deal with any annoying eBay buyer, then you can supply follow the steps below and block the user.
First, you need to login to you eBay seller account
Then click on the 4th option "Help & Contact" at the upper-left corner of the screen
Once you land on the page, type "block a buyer" in the search bar
On the page, you'll find a blue button of "Block a buyer," you'd need to click on that button
After hitting the blue button, you need to enter the username of the buyer you want to block in the text box below "Blocked Bidder/Buyer list"
Below the text box, there is a "Submit" button that you need to hit.
Now the user is blocked and he/she cannot make any bidding and purchase from your product listings.
These are the steps that you must follow to block eBay bidder and buyer.
You can also avoid blocking users on a regular basis
If you don't want to Block eBay bidder or buyer on a regular basis, then you can select buyer requirements based on the following criteria:
Don't have a PayPal account
Have unpaid items recorded on their account
Buyer have registered in location where you don't ship
Have reportedly violated eBay policies
Have a negative Feedback score
Bidding several times and not paying
Have bought a large number of your items from your listing in the last 10 days
Once you select the buyer requirements, choose the select option. Select your buyer requirements carefully otherwise you may end up blocking potential buyers who are giving you a good business.