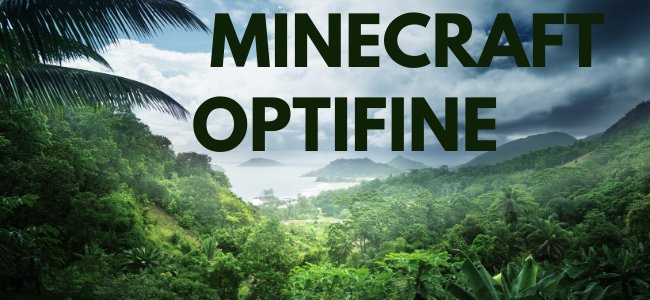 In this era, online games have become extremely famous among millions of people. People from all age groups love to play online games. Some online games like Pubg, Counter-Strike: Global Offensive, Diablo 3, Clash of Clans, Minecraft, Warframe and Call of Duty: Warzone has brought a revolution in the game industry. One of the most famous online games that people like to play is Minecraft. One problem faced by a lot of Minecraft players is fade graphics. If you want to improve the Minecraft's graphics for smooth performance, then you'd have to download and install OptiFine as both a mod and a standalone configuration for Minecraft.
What is OptiFine?
It is one of the most downloaded Minecraft mods. That is the mod that the magic launcher activates. To boost the graphics of your computer, you may download it for Minecraft. The software has also better efficiency and visuals. By downloading OptiFine, you can freshen up those blocky visuals as well as make everything run smoothly. It customizes the game by giving it high-definition textures. By installing OptiFine, it will get easy for you to control the day/night cycle and effects like fog and rain. You can easily play around with animation effects after installing OptiFine. Now you will ask how to install Optifine. Well, here's your guide to download and install OptiFine
Step by step guide to download OptiFine 1.14
#1. You can't install OptiFine, if you haven't downloaded it. So first you have to go to https:/optifine.net/downloads.php to download OptiFine. Prefer to download "Ultra" version, i.e., OptiFine 1.14.4 as it would have the most amazing features. Once the version you are searching for is found, the '(mirror)' link/button. You are then brought to a webpage featuring a lot of advertisements. You see the 'Download OptiFine' right after this in the middle of these ads. Select and OptiFine will be downloaded instantly! You need to ensure that OptiFine is a protected file. There are millions of downloads of this app, so it's safe.
#2. It is time to open the OptiFine App after downloading it. That's pretty clear, honestly. You would simply have to right-click on the file that you have been installing, pick 'open with' and press 'Java(TM) SE Binary board.' the software will be enabled after doing that.
#3. When you've got the OptiFine Installer, you only have to press the "install" button to finally activate the software. OptiFine will install itself magically from there! A matter of minutes later there will be a pop-up message that states 'OptiFine is successfully installed.'
#4. OptiFine has not yet installed in your device. Now the Minecraft launcher must be open and the little arrow next to the "PLAY" button must be clicked. You'd like to see a version named OptiFine. Hit 'PLAY' and click the version!
#5. Congratulations, now you have successfully downloaded and activated OptiFine in Minecraft now! Isn't OptiFine download easy? The optimization of Minecraft graphics was never so quick. Turn the graphics down if you wish to speed up the game. You have a choice!
If you still couldn't download OptiFine Minecraft, then see online YouTube tutorial for downloading OptiFine for Minecraft. OptiFine will surely optimize your game!